Unlike France where the government has declared a state of health emergency since October 14th, the French-speaking Caribbean island of St Barth is open and welcoming tourists.
The Covid-19 situation on the island is different and St Barth is not impacted by the lock-down. Prefect of Saint-Barthélemy and Saint-Martin, Sylvie Feucher, recently stated how the island will remain open without taking new measures.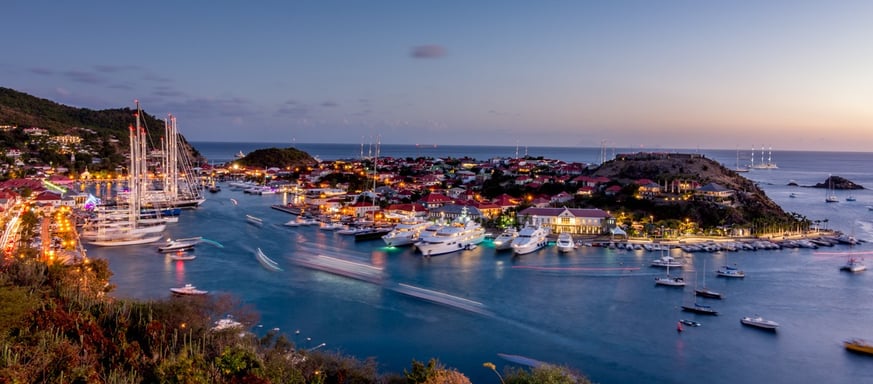 The following article is for informational purposes only. The situation is changing quickly and may vary depending of your location in the world. We strongly recommend that you check the requirements that will apply to you and your journey.
Current Situation and Measures in Place in St Barth
St Barth still has the lowest positivity rate in all French Territories and the island is open to non-essential travel and tourism. However, measures that have been previously implemented on the island are still in force.
St Barth bars, restaurants, and shops are to close at midnight.
Face masks need to be worn in all indoor public areas including establishments such as shops, grocery stores, banks. Mask wearing is also required on the busiest streets.
Social distancing measures are required.
It is forbidden to gather in groups of more than 6 people in public areas.
The two-meter distance per person rule applies to establishments that receive visitors.
In restaurants, the allowed number of people per table is 6. If you are visiting a restaurant in a group of more than 6 people, you will be seated at different tables. Mask-wearing is compulsory for all staff members, while customers circulating in restaurants also need to wear masks. Guests may remove their masks while seated at their table. Take-out service continues in many restaurants.
Pharmacies, grocery shops, government offices, banks, and other services are open to the public.
All beaches on the island are all open with no restrictions. Masks are not required on beaches. However, social distancing is encouraged when visiting beaches in St Barth.
Are private villas available for rent in St Barth? Yes, as of June 22nd tourists can reserve a stay in most villas on the island.
Travel Requirements to Visit St Barth
The following Covid-19 terms and conditions apply to travelers who want to go on vacation in St Barth.
Visitors are required to show a copy of a negative Covid-19 PCR test result, taken within 72 hours prior to departure. It is recommended (but no longer mandatory) for travelers coming from a country outside the European Union or the French West Indies and staying longer than a week to take an additional Covid-19 PCR test on day 7 of their stay. This additional test will cost about US$150.
If you are planning to visit St Barth through St Martin, you will have to fill out a travel entry request form for St Martin and submit it. For more details, click here https://stmaartenehas.com/application-form/. It's highly recommended to fill out the online application at least 10 hours prior to boarding, as SXM will be processing the application. The processing has to be done in order to board your flight.
Children under the age of 10 are not required to be tested.
Flying from/to St Barth:
Connecting Passengers via Guadeloupe (PTP) or Saint Martin (SFG)
Before arrival:
Negative Covid-19 PCR test taken within 72 hours prior to departure
A declaration of the honor of absence of symptoms (applies for travelers from France only)
Connecting Passengers via Sint Maarten (SXM)
Before arrival to St Barths from Sint Maarten:
Negative COVID-19 PCR test performed within 72 hours prior to departure.
Health Declaration Form that needs to be completed on the following link https://stmaartenehas.com/application-form/. SXM is asking for a test performed within 120 hours prior to departure, so the test done for SBH will also be good for SXM.
Declaration on the honor of absence of symptoms (travelers from France only)
Prior Departure from St Barths to Sint Maarten:
Health Declaration form
A declaration of the honor of absence of symptoms (applies for travelers from France only)
No PCR test is required for visitors traveling from St-Barths who are in transit in Juliana, but you need to complete the application online again. (https://stmaartenehas.com/application-form/)
Ferry Travel
Great Bay Express is running again (starting from November 26th) and Voyager now accepts travelers from all countries. You will have to show a test done 72 hours prior to ferry departure.
How to do a RT-PCR test in St Barth?
If you are planning to stay for more than 7 nights in St Barth, it is recommended (but not mandatory anymore) that you run a second test for Covid-19 again on the 7th day of your stay. You will find the testing lab on Rue Pitea in Gustavia. Testing for Covid-19 is available Monday to Friday from 12 (noon) to 1 pm and Saturday from 9 am to 10 am (no appointment needed).
This "D7 test" can also be a Rapid Antigen Test and hence done by a doctor or a nurse, either at their office or at your hotel room or villa.
In case you get a positive PCR Covid-19 test, you will be required to self-quarantine for a week or until you re-test negative. In case a traveler for some reason cannot extend his/her stay in the rented accommodation for the required period of time, this person may quarantine in a facility in St. Jean.
Also, if you are flying back to New York, Connecticut or Massachusetts you will be asked to show a negative Covid-19 test administered within 72 hours of arrival.
St Barth Laboratory location: