Starting from February 2nd, travels from and to St Barths will only be allowed for essential reasons (health, professional or familial reasons).
St Barths' authorities are currently discussing with the French government in order to lift these restrictions as soon as possible while taking into consideration our island's situation.
Feel free to contact us with any questions you may have. We are here to help.
We hope to be able to welcome you very soon in our island paradise again.
Take care, stay healthy, stay strong.
The following article is for informational purposes only. The situation is changing quickly and may vary depending of your location in the world. We strongly recommend that you check the requirements that will apply to you and your journey.
Current Situation and Measures in Place in St Barth
St Barth bars, restaurants, and shops are to close at midnight.
Face masks need to be worn in all indoor public areas including establishments such as shops, grocery stores, banks. Mask wearing is also required on the busiest streets.
Social distancing measures are required.
It is forbidden to gather in groups of more than 6 people in public areas.
The two-meter distance per person rule applies to establishments that receive visitors.
In restaurants, the allowed number of people per table is 6. If you are visiting a restaurant in a group of more than 6 people, you will be seated at different tables. Mask-wearing is compulsory for all staff members, while customers circulating in restaurants also need to wear masks. Guests may remove their masks while seated at their table. Take-out service continues in many restaurants.
Pharmacies, grocery shops, government offices, banks, and other services are open to the public.
All beaches on the island are all open with no restrictions. Masks are not required on beaches. However, social distancing is encouraged when visiting beaches in St Barth.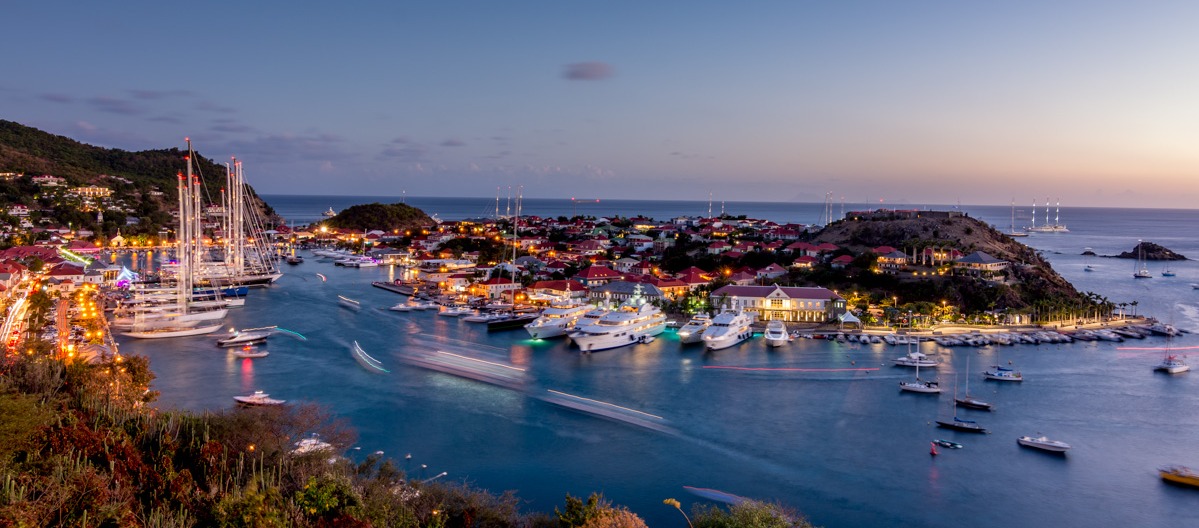 Travel Requirements to Visit St Barth
The following Covid-19 terms and conditions apply to travelers who want to go on vacation in St Barth.
Visitors are required to show a copy of a negative Covid-19 test result, this test can has to be a RT-PCR test taken less than 72 hours prior to arrival
Children under the age of 10 are not required to be tested.
Visitors are asked for commitment to respect prophylactic isolation measures (limit contact as much as possible) and to perform a PCR test again on day 7 (if still on the island).
Connecting Passengers via Guadeloupe (PTP) or Saint Martin (SFG)
Before arrival:
Negative Covid-19 PCR or antigen test taken within 72 hours prior to departure
A declaration on the honor of absence of symptoms
Connecting Passengers via Sint Maarten (Juliana - SXM)
Before arrival to St Barths from Sint Maarten:
Negative COVID-19 PCR test performed within 120 hours prior to departure or a negative antigen test taken less than 48 hours prior to departure.

Only the following antigen tests will be accepted:

Becton Dickinson (BD) Veritor Plus, Abbott Panbio, Abott BinaxNow et Roche/SD Biosensor F.
Health Declaration Form that needs to be completed on the following link https://stmaartenehas.com/application-form/. It's very important to do this declaration form at least 12 hours prior to the departure of the first flight of your journey. You will be asked to upload your test results.
Prior Departure from St Barths to Sint Maarten:
Ferry Travel
Great Bay Express is running again (starting from November 26th) and Voyager now accepts travelers from all countries. You will have to show a test done 72 hours prior to ferry departure.
Connecting passengers via San Juan (SJU)
There are no specific requirements from San Juan for passengers transiting less than 24 hours to St Barts. Travelers will just need to make sure they comply with the requirement to enter St Barth (see above)
Connecting passengers via Antigua (ANU) airport
All travelers will have to show a negative PCR test taken less than 72 hours prior to arrival.
Important note: Depending on your return destination and travel journey, a PCR or antigen test may also be required by your final destination.
Passengers returning to the United States
The United States requires a proof of Negative Covid-19 test or recovery from Covid-19 for all passengers arriving in the United States from a foreign country. This test has to be done no more than 3 days before your flight departure. It's also possible to show proof of having recovered from Covid-19.
This applies to all air passengers traveling into the US, including US citizens and legal permanent residents. More info on the CDC website.
How to do a Covid test in St Barth?
Since January 21st, 2021, all persons needing to perform a PCR test (symptomatic persons, contact cases, travelers) will have to go to the Red Cross screening center in St Jean.
Testing is available from Monday to Friday from 8 am to 3 pm and on Saturday from 8 am to 12 noon. You will be asked for your passport.
St Jean testing facilities location: